Victor Reinz: A smooth first filling after a replacement…
A smooth first filling after a replacement: REINZOADD gets turbochargers off to a perfect start.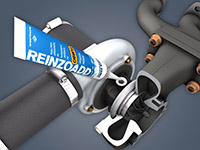 During normal operation, the turbocharger is integrated into the lubrication circuit and is constantly rinsed with oil – but after it's been replaced, it starts out dry. Only once the engine has been started does the lubrication circuit build up the necessary pressure to fill the turbocharger with oil – but there's a delay. And this critical dry phase is precisely what REINZOADD is there for to bridge. It is essential to fill up the turbocharger before the first compression takes place. Otherwise, the turbocharger will run hot and cause irreparable damage – or even total destruction – to the engine.
REINZOADD uses the solid lubricant MoS2 to form a heavy-duty lubricating film on all surfaces of the turbocharger to reduce friction and wear – with ideal properties for emergency operation. The turbocharger is ready to start right away.
The Dana turbo experts recommend using REINZOADD every time a turbocharger is installed – for all designs from conventional turbochargers to ones with variable turbine geometry.
Benefits of REINZOADD lubricant
A tested additive for initial turbocharger filling which has proven itself in daily use at the shop. An effective combination of additional ingredients and MoS2.
Allows you to start up the turbocharger safely right after installation Reduces friction and wear. Improves turbochargers' emergency operation properties and
extends their service lives.
Dana's Aftermarket product line
Dana, a worldwide leading supplier of drive trains, sealing systems and thermal management products, also presents a broad spectrum of high-performance and efficient solutions for the field of aftermarket parts. The product range of successful brands includes: Dana®, Spicer®, Victor Reinz®, Glaser®, GWB®, Thompson®,
TruCool®, SVL® and Transejes® and offers replacement parts of superior quality worldwide. The offer comprises aftermarket products from original and third-party manufacturers for the maintenance and repair of passenger cars as well as utility and off-road vehicles. The Dana Aftermarket team operates out of 13 distribution centers all over the world and is there to provide personal customer assistance and technical support. Extensive inventories in stock guarantee high product availability with quick delivery times.