Airtex

Airtex provides millions of fuel and water pumps annually to major vehicle manufacturers and distributors around the world. The group covers a world of pump applications, all made to original equipment specifications.
Product summary
The group offers more than 1700 different references for European, American and Japanese cars. Airtex Products S.A. offers a range of more than 1000 different water pumps and more than 700 Electric fuel pumps through its European Catalogues. Airtex Products S.A. uses equipment with the latest technology in design, production and assembly. The CAD system uses powerful software for three-dimensional pump modelling, infinite element analysis and CNC controlling.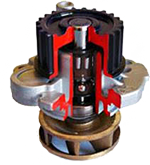 The water pump is a product of vital importance for the engine′s performance. At the time of the ignition, the temperature of the cylinders reaches nearly 2000ºC which is higher than the melting point of the surrounding materials. If an energetic cooling system wasn′t at work at that time, the surrounding materials would melt. In general, a water pump is composed of a minimum of five components: (hub -pulley, body, bearing, seal, impeller), assembled together, plus a sealing surface.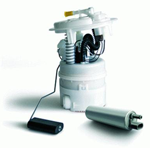 Airtex manufactures electrical and mechanical fuel pumps. From design and engineering to aluminum die casting, stamping, plastic parts injection and armatures manufacturing. The electronic injection systems requires a pump the same as the original one: the same kind of pump, motor, size and impeller design. In the aftermarket there are pumps that are not equivalent to the Original Equipment pumps. The design and model of the Airtex electrical pumps provide the same mechanical requirements as the Original Equipment pumps.
Airtex also offers a new world of possibilities with their new distribution kit for light vehicles and light commercial vehicles. With more than 190 positions, 4 products in 1: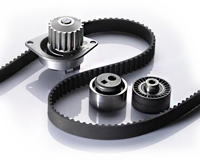 Water Pump
Timing Belt
Tensioner Pulley
Idler
Airtex Online Catalogue
Catalogue